Inbound marketing is the process of organically growing your customer base by providing quality content that attracts interested people to your business and gently nurtures their interest in your brand. This content can take many forms, including but not limited to:
Blog posts
Social media posts
When it succeeds, inbound marketing often results in lifelong customers and, by extension, a predictable revenue stream for your business.
The scope of inbound marketing is growing all the time, and so is its importance in the overall digital marketing landscape. It is currently considered the gold standard for lead generation and nurturing practices.
What Is an Inbound Marketing Agency?
An inbound marketing agency is a digital marketing company that offers specialized services to help you acquire more customers using inbound marketing techniques. Depending on your business' needs, these companies might help you:
Create content that drives genuine interest in your brand
Implement more technical inbound marketing channels like email marketing
Compile a strategy to draw in specific types of leads
Review your present inbound marketing approach and find areas for potential improvement
Your inbound marketing company also serves as a touchpoint for all of your inbound marketing questions and special requests. If you have an idea for a new way to draw consumers closer to your brand, your inbound marketing agency can help you make that idea a reality.
The Stages of Inbound Marketing
There are three main stages involved in inbound marketing:
Attract: Grab your leads' interest with unique, informative, and appealing content that they cannot find anywhere else.
Engage: Show your leads that your brand understands their needs and has plenty to offer in terms of products or services.
Delight: Reaffirm your commitment to your customers' success by providing them with ongoing innovations and support to match their evolving requirements.
If you implement inbound marketing well, these three phases will feed seamlessly into one another. Leads who become interested in your content will organically become interested in purchasing from you, and the excellent customer support they receive after their purchase will convince them to keep coming back. This looping mechanism allows your brand to build momentum as you slowly but surely acquire more market share from your competitors.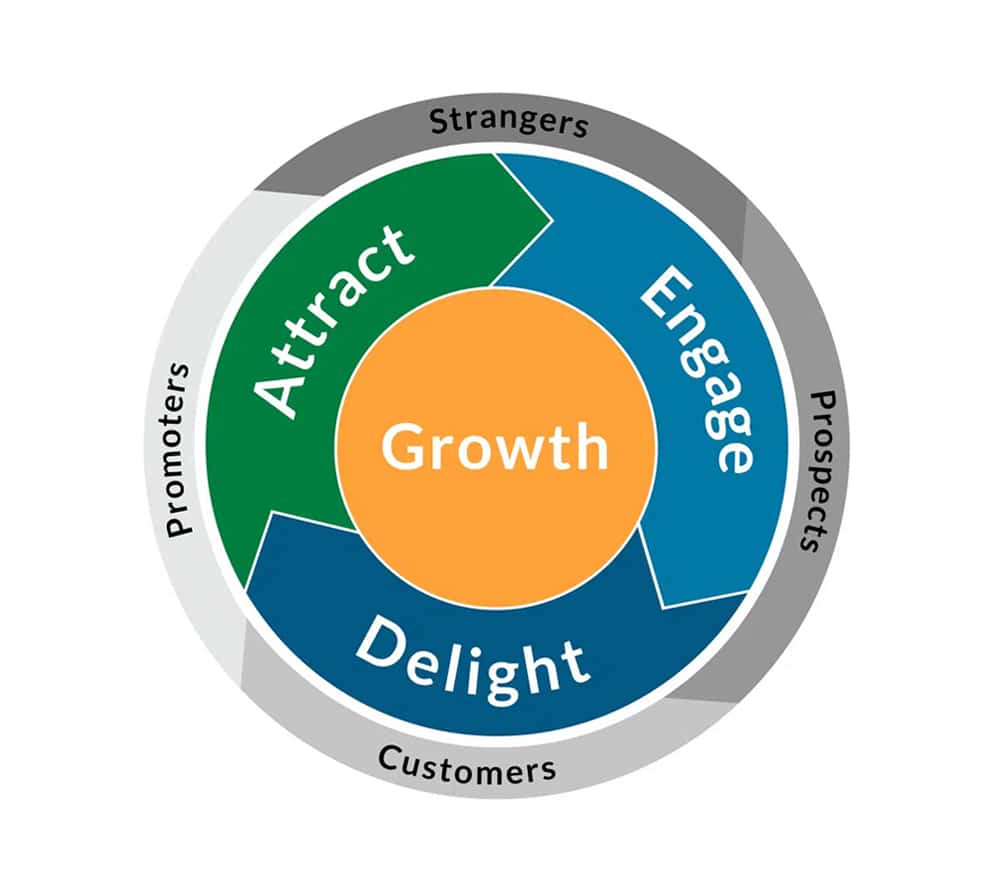 Our Inbound Marketing Services
We are able to provide the following services should your company need them:
Every business approaches inbound marketing slightly differently. Our clients can pick and choose from any of the following services, customized to meet their individual business needs.
Using HubSpot as Your Go-To Inbound Marketing Tool
Inbound marketing is a complex process that benefits significantly from the help of automation and support software. HubSpot is one of the leading inbound marketing software providers out there, known for its rich array of offerings that assist businesses in catering to leads in every stage of the buyer's journey.
The three software service packages listed below are some of their most popular and subscribing to any one of them, or a combination, could be a major asset to your business.
HubSpot Marketing: This software equips your business with useful tools to help you implement tech-heavy aspects of inbound marketing, such as email marketing and marketing automation. It also provides analytical tools to support optimization through techniques like A/B testing and lead scoring.
HubSpot Sales: This sales CRM software helps you to schedule meetings, prepare quotes, and conduct live chats with prospects. Additional reporting and forecasting tools allow you to understand the strengths and weaknesses of your current sales approach and take steps to improve your business' financial outlook over time.
HubSpot Service: This software service package includes everything you need to offer excellent digitized customer service. Subscribers enjoy everything from support ticketing systems, live chat bots, and self-help resources for customers, as well as analytics tools to help you optimize your retention rates and response times.
WSI is a Certified HubSpot Partner
Interested in using HubSpot inbound marketing software for yourself, but not sure how to make the most of this exceptional resource? You can count on WSI Comandix to guide you through the process. WSI is a certified HubSpot partner, we are equipped to provide expert assistance to clients using this set of software solutions.
Whether you would like our help implementing HubSpot's advanced solutions or you would rather keep your inbound marketing just between us, WSI is on your side. Contact us today to discuss your inbound marketing needs and start building the dedicated customer base you have always wanted.
Frequently Asked Questions (FAQ)
Inbound marketing is typically classed as a long-term strategy, meaning that you should expect to wait a while to see results. Initial traffic increases might be small, but over time they will build into more impressive boosts.
It is easy to assess the performance of inbound marketing campaigns; all you have to do is look at the data. Sophisticated analytics tell us how many visitors your website receives and where they are coming from, revealing the best lead funnels for your business. Inbound marketing for eCommerce can be correlated directly to sales performance using the data that is produced in all online interactions.
You can! Paid advertising and inbound marketing are not mutually exclusive, and in fact they complement each other very well. We can help you implement PPC and social media advertising campaigns that will draw some immediate traffic to your website while you wait for your inbound marketing campaigns to take effect.